Scar Therapy
How Can Scar Therapy Help Me?
Scar therapy can be used on scars past the initial healing process (after six weeks or the doctors sign-off), or at any other point in their owner's life. Even 70 years later, it can still have a significant effect.
Scars form when an area is damage, it need not be from surgery or an accident trauma, even a nasty insect bite can cause long term issues.
Issues can occur when a damaged layer (i.e. the skin), does not heal against the original neighbouring part of that layer, when one side gets stuck under the other forming a ridge, or (commonly through surgery) the wrong bits of skin/muscle heal together, leading to tensions, puckering and potentially numbness where surface nerve pathways are disrupted.
Slow healing scars can have additional collagen forming along the scar line, creating firm, ropey lines that pop-up when stretched.
Between-layer adhesions can occur so that, for instance, the skin may get stuck to the muscle underneath and every time the muscle is moved the skin gets dragged with it. This can happen between different muscles layers and between muscle and bone as well. (In extreme injury the skin can be stuck to the bone).
Another scaring mechanism, is caused by puncture wounds, or keyhole surgery. This in effect, creates a line of adhesion going from the surface all the way down to the base of the wound, potentially sticking multiple layers together.
The good news is, all of these issues can be treated using innovative scar therapy methods developed by Sharon Wheeler. Using very gentle techniques, which cause no more than mild discomfort, the body can be persuaded to relax and effectively melt the points of adhesion and reduced the ropiness along the line of a scar. Nerve pathways can be stimulated and blood and lymph flow improved, so that scar tissues soon starts to look and feel healthier, and mobility in the scar and across the body improve.
To book your Scar Therapy appointment, either call or email me.
"My burn scar is much reduced in colour and thickness and looks much smoother after seeing Neil. He is a very thorough and dedicated therapist who I'd recommend with no hesitation."

Amanda DavidsonWoodbridge
"Neil instantly put my young son at ease in order to treat an angry looking facial scar. After only one treatment, the results were very impressive and we asked for a second appointment as we were delighted. The scar is is less raised and red and overall less noticeable. If you have a scar that you'd like to try and improve, I'd definitely recommend getting in touch with Neil to see if he can help."

Annabel ClementsonSaxmundham
"Neil has been treating my scar which has greatly reduced and looks much better. I had given up hope that my scar would ever look better. Thank you so much Neil for all your professionalism and kindness. "

Loveness HookFramlingham
"After surgery for breast cancer, Neil helped me considerably. Where I once had pain and numbness, now there is softness and sensation.

Neil works with a clear passion for improving our well being and practices many different techniques to achieve this. He is always full of advice and support and works with the gentlest of hands in the most effective way. Thank you for all your help Neil. You're a star. "

Chris Van ReenNeedham Market
What is ScarWork?
A new and specially developed form of scar therapy, ScarWork helps reconnect and promote healing on the scar surface and reduce adhesions in the underlying tissues.
Treatment is given without oils or creams, to help post-operative, injury or burn scars. You may not have heard of it, as currently there are few qualified therapists in Britain offering these specialised scar treatments. Developed over a 40 year period by American therapist Sharon Wheeler, who trained with Dr Ida Rolf, the founder of Structural Integration also known as Rolfing.
Which scars can be treated?
All kinds of scars from very old to newly healed (once you have been discharged by your doctor) can be treated using ScarWork. It is important that before treatment scars are healed, dry and infection free. The scars could be the result of an accident, operation or cosmetic surgery, such as:
Joint replacements
C sections
Skin grafts
Facial scarring
General Surgery
Accident/ Injury scaring
Cesarean section
Hysterectomy
Breast surgery
Open heart surgery
Spinal surgery
Achilles tendon surgery
Childhood injury
Tummy tuck surgeries
Burns
and many more
ScarWork is not a replacement for conventional treatment.
If you are in doubt, ask your doctor or consultant if you can safely have treatments on your scar.
To book your Scar Therapy appointment, either call or email me.
"Neil has been treating my surgical scar recently and has greatly reduced the appearance of it - it's amazing! I thought nothing could be done as my GP had suggested cortisone injections or further surgery, neither appealed very much! Luckily I found him and he's worked wonders. Neil knows several techniques, none of which I'd seen/heard of before. He is very professional and comes highly recommended. Thanks Neil "

Siuleng ChanFelixstowe
"Dear Neil, this is just to say "thank you" for your incredible sensitivity in working with me after my cancer surgery. "

Ute LierschMartlesham
Before and After Images
Here are a few images of scars I have been treating, showing the effect that can be had. It is important to note that many scars do not show significant surface change but the patient can feel a huge change within their body as adhesions release, allowing removal of tension and greater ease of movement.
It is also quite common for there to be an emotional release as a scar is worked on, potentially causing a few tears as the trauma that may have been associated with the scar, is allowed to dissipate. Sometimes this can be quite a big event, which will mean the treatment will need to be paused or stopped early to allow the client to come to terms with what has just happened. If this is required, the client is allowed as much time as they need, before they choose to the leave the clinic.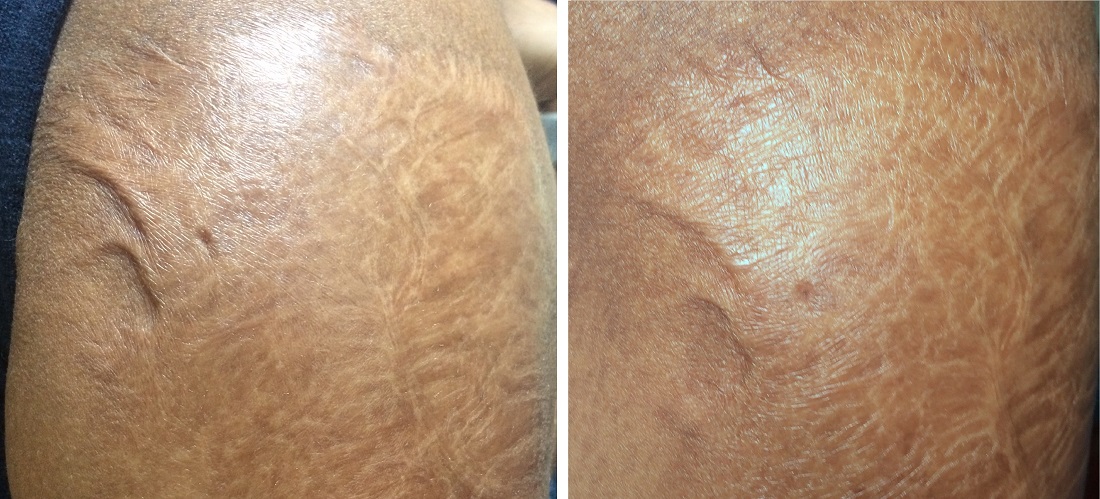 To book your Scar Therapy appointment, either call or email me.